We didn't expect to be doing any more boating this year, but here we are, just a couple of weeks before Christmas, heading back on board for what promises to be an exciting experience! The new Azimut Magellano is in Sidi Bou Said, a small port in Tunisia, and so are we.
Moored at the end of the pontoon, she dominates the marina and draws attention from all around. The bronze hull stands out from all the white boats surrounding her, and she towers above the others moored here. It hasn't been an easy crossing, we are told by the crew. The weather was unfavourable, and of course there have been a number of teething problems. But here she is, and we can't wait to get on board.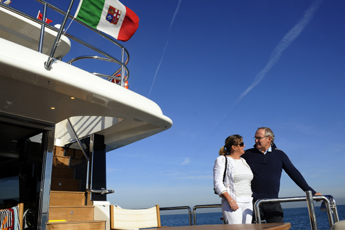 It is hard not to be impressed by the spacious, light and airy saloon. The large windows mean that the Azimut feels at one with her surroundings, and the Missoni furnishings bring a touch of colour and fun to the interior. We are eager to explore and delve below to inspect the cabins, feeling a touch of envy for those who have already enjoyed these facilities. The light from the saloon percolates down the stairwell into the corridor, enhancing that feeling of spaciousness. The owner's cabin is huge and looks comfortable, with plenty of room for Dag Pike to work on his book when he is not on duty at the helm. And when he's finished, there's even bookcases by the headboard where he can stow his new novel! There's a distinct feeling of small, chic boutique hotel here, and it's very appealing.
The other two cabins are equally well appointed, with interesting touches like the under-bed storage – the mattresses lift with easy to reveal a large space which easily accommodates all those items you want to keep out of sight. I'm impressed! And the en suite facilities are everything you would hope for and expect on a boat of this calibre.
After a good look around, it's back up to the saloon – which is by now filling with people. I count heads and realise that there are twenty people on board, but it doesn't feel the slightest bit crowded. Canapes are being prepared in the galley, which is situated just inside the cockpit door and there is a real party atmosphere.
Posted: dicembre 11th, venerdì, 2009 @ 11:41 AM
Categories: Testing the Magellano in Tunisia.
Subscribe to the comments feed if you like. You can leave a response, or trackback from your own site.